FOR IMMEDIATE RELEASE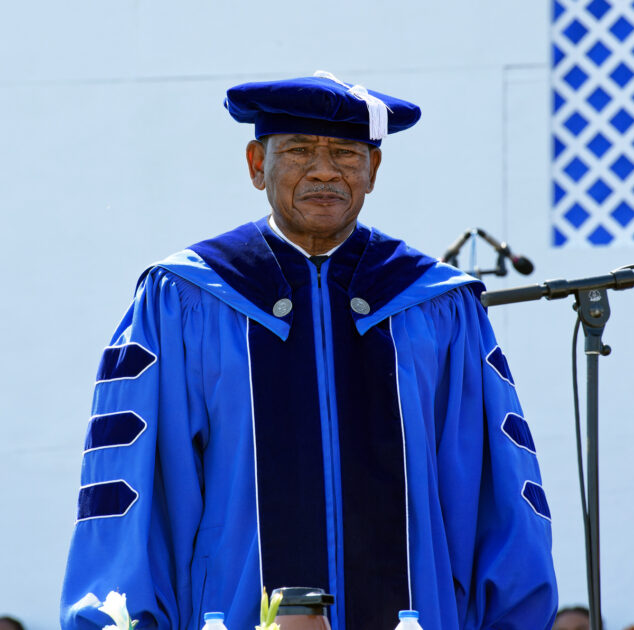 Hampton, Va. (May 19, 2023) – Hampton University honored Col. Joseph Briggs (USA, Retired), Class of 1963, with the 2023 Alumnus-At-Large Award, joining a long list of luminaries who have received the institution's highest recognition of its world-changing graduates at spring Commencement ceremony on May 14.
Col. Briggs, a member of Omega Psi Phi Fraternity, Inc., has over 30 years of result-oriented progressive engineering management experience with practical leadership and management positions within highly competitive and diversified organizations. His military assignments included serving as the District Engineer of a five-state area encompassing over 150,000-square miles of civil works and environmental protection programs for two of those states.
The Brooklyn native graduated with a B.S. in Architectural Engineering and was commissioned as a second Lieutenant in the U.S. Army Corps of Engineers. After serving both state-side and overseas assignments, including combat in South Vietnam, he earned his master's degree in Civil Engineering from the University of California, Berkeley in 1970, and subsequently taught and trained cadets at the U.S. Military Academy at West Point, New York.
He spent nearly a half-dozen years with the Library of Congress as their Chief of Facilities before retiring from his civilian duties. Immediately following his retirement from the U.S. Army, he became a Vice President and Project Director for the Metcalf & Eddy Waste Water Company serving as the project lead for the Blue Plains Water Treatment Facility in Washington, D.C. He also served as project lead for the Water and Sewage Treatment Plant in Detroit, Michigan, on a 750 million-gallon-a-day Pumping Station.
Highly regarded for his boundless enthusiasm and affection for his alma mater, Col. Briggs is known as a "fundraiser extraordinaire," who connects important causes with supporters willing to invest in humanity. He has chaired the annual gala for the Northern Virginia Chapter for seven consecutive years and led that chapter in developing two endowed scholarships for Hampton students. He served as vice president of the Mid-Atlantic Region of the National Hampton Alumni Association, Inc., for more than ten years and co-leader of the Emeritus class. He was honored by the NHAA, Inc. with the inaugural "Let Your Life Do the Singing" Award recipient at the 2022 NHAA, Inc. National Gala in New York.
Col. Briggs is an active member of Alfred Street Baptist Church in Alexandria, Virginia, and a staunch supporter of the church's annual college fair where he played an instrumental role in fundraising for the Church to make its historic $1M gift to the National Museum of African American History in Washington, D.C.
Col. (Ret.) Briggs is married and has three children and three grandchildren. For more information on Alumni activities, click here.
##