FOR IMMEDIATE RELEASE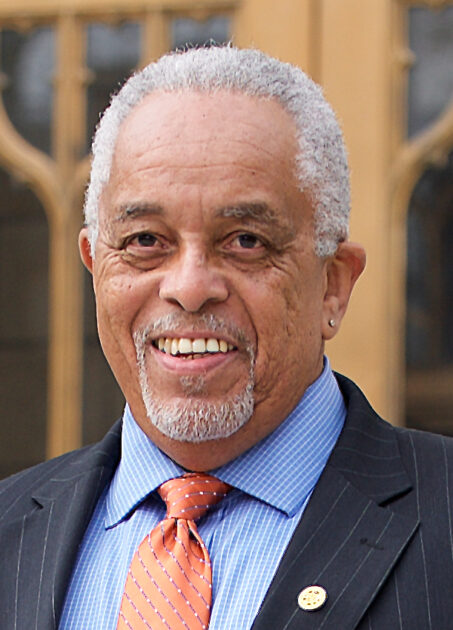 Hampton, Va., (May 24, 2023) – Hampton University mourns the loss of Professor Maynard Eaton, who died late Tuesday evening in his sleep after a brief battle with lung cancer, according to his family. Eaton was an eight-time Emmy Award winner, was honored by the National Newspaper Publishers Award (NNPA) and won multiple honors from the National Association of Black Journalists (NABJ).
The highly regarded broadcast journalist returned to his Home by the Sea as an Endowed Professor in the Scripps Howard School of Journalism and Communications in 2022. Eaton began his career in 1970 as WVEC-TV's first African-American newsman, after graduating from Hampton Institute's Mass Media Arts Program. He went on to earn a Master of Arts degree from Columbia University Graduate School of Journalism.
"The passing of Maynard Eaton is a tremendous loss to the entire Hampton University family. Equally, his is a loss to the media profession and society," said HU President Darrell K. Williams. "In this era when the media has the power to influence our beliefs, attitudes, and behaviors, Professor Eaton's body of work reminds us to pursue and protect excellence and fairness in our exchange of ideas, thoughts, and information."
Eaton's career spanned more than five decades and he left a legacy of impactful reporting and social change that includes his time as a reporter for The Atlanta Voice. Eaton conducted numerous high-profile news reports and interviews with heads of state, political giants, renowned entertainers, athletes, and civil rights leaders. For the past decade, he served as National Communications Director for the Southern Christian Leadership Conference, the legacy organization established by the Rev. Dr. Martin Luther King.
"The Scripps Howard School of Journalism and Communications is saddened to learn of Professor Eaton's transition from this earthly life," said Dean Julia A. Wilson. "He provided a mature perspective on journalism to our students and will be sorely missed."
Eaton is renowned as a multi-award-winning broadcast journalist, political columnist, media/public relations consultant, freelance writer, and executive editor. Eaton's impact will be felt through the voices of the journalists he has trained and mentored during tenures as a professor at both Clark-Atlanta and Hampton universities.
"His wife Robin and family have our prayers for strength and comfort. May he rest in peace," said Dean Wilson.
Burial plans have not been announced. Eaton was 73.
###