Jefferson's New Role Makes Her the Eagle-Eye for The President's Engagement with Key Internal and External Constituent Groups
FOR IMMEDIATE RELEASE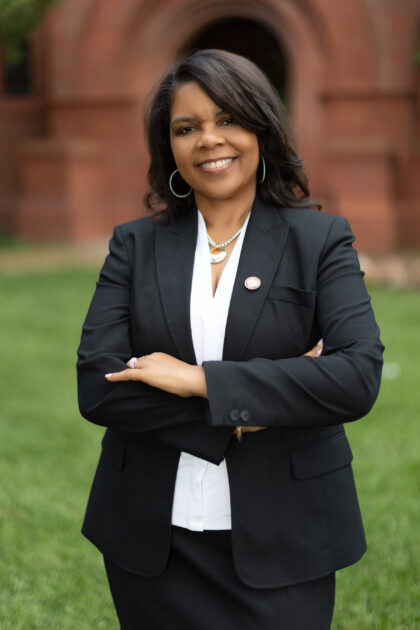 Hampton, VA (August 9, 2023) – Hampton University President Darrell K. Williams has promoted 28-year higher education veteran, Joy Jefferson, to Chief of Staff. As Chief of Staff, she will act as an advisor and strategic partner to the president and support the university's executive team in the implementation of the president's priorities as detailed in the strategic plan. Prior to her promotion, Joy served as Vice President and Executive Assistant to the President.
A household name to Hampton, Joy has served as Vice President for External Relations, Associate Vice President for Development, Assistant Vice President for Development, and Director of University Relations under the Harvey administration. Her responsibilities included the overall leadership and supervision of the Offices of Alumni Affairs, the Annual Fund, and University Relations, Marketing & Communications, and service on the President's Administrative Council. Her impact spans across the Chesapeake Bay, having served as the associate vice president for alumni relations and executive director of the Old Dominion University Alumni Association. At ODU, Joy led the cultivation of a community of more than 165,000 alumni throughout the United States and around the world. She also held an early-career position as Director of Development at North Carolina State University.
"Mrs. Jefferson is undeniably fit to lead as our Chief of Staff. Her wit, wisdom, and candor accent her impact and contribute to the vitality of our university," said President Williams.
Joy currently serves on the Hampton Roads Center Owners Association Board of Directors. She is a former member of the Virginia Peninsula YMCA Board of Directors, Virginia Center for Inclusive Communities State Board of Directors, the An Achievable Dream, Inc. Board of Directors, and Relay for Life Virginia Peninsula Executive Committee.
Joy shared, "Our network is strong. We become greater as we nurture relationships and partnerships with a mutual heart for Hampton and our global community. I am glad to partner with President Williams in supporting our leaders and forging ahead in our pursuit of a greater Hampton."
A native of Hampton Roads, Joy is a 1986 graduate of Hampton University with a Bachelor of Arts degree in Mass Media Arts.
###