Dr. Oladipupo's Expertise in Technology and Innovation Will Accelerate Hampton to the Frontlines of Cutting-Edge Research and Best-in-Class Social and Academic Experiences.
FOR IMMEDIATE RELEASE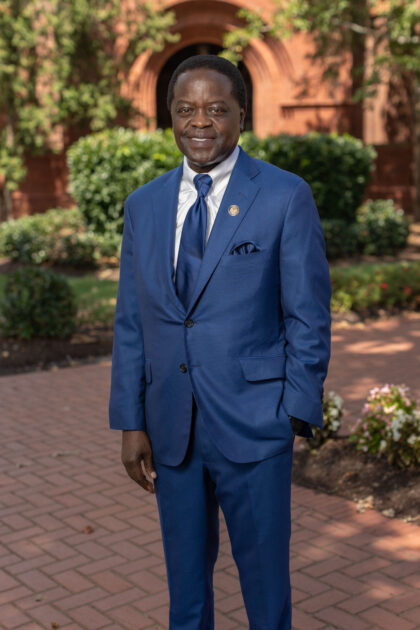 Hampton, VA (August 17, 2023) – Hampton University is upholding its commitment to commissioning the brightest minds for its greatest works with the appointment of Dr. Adebisi Oladipupo as Vice President of Information Technology.
With a sterling track record of harnessing technology to drive societal impact, he is poised to reshape the technological landscape, equipping the university with the tools to pioneer breakthroughs that will resonate far beyond the confines of campus. Prior to joining the Hampton University family, he closed in on a decade of service at Morgan State University as the Vice President for Technology & CIO after a marveled 14 years of service at Norfolk State University as the inaugural Vice President for Research & Technology and Chief Information Officer. A returning influence on the Hampton U community, he made an early-career progression for 13 years through the ranks to become the Assistant Dean of the School of Engineering & Technology.
Oladipupo earned his Doctor of Science and Master of Science degrees in Materials Engineering from Massachusetts Institute of Technology (MIT)and a Bachelor of Science degree in Engineering Physics (Materials Science) from the University of Ife, Nigeria. He also holds a certificate in Higher Education Management from Harvard University and is a recipient of the Thurgood Marshall Technology and Communications Leadership award.
"As we discover the possibilities of technological evolution and higher education, Dr. Adebisi Oladipupo emerges as an inspirational force, propelling Hampton University into the vanguard of innovation. We are grateful to have him on board." said President Williams.
An acclaimed technologist, Dr. Oladipupo brings a wealth of knowledge to his new role. He is a certified mobile application developer and a certified IT service management professional (ITIL). He has designed, developed, and implemented computer applications for self-paced learning and distance learning as a faculty. He is a published co-author of three engineering textbooks in Computer-Aided Design and has served as a technical reviewer for the National Science Foundation (NSF), the U.S. Department of Education and the U.S. Department of Commerce. He has consulted for tech giants IBM, Lucent Technologies, and Motorola, Inc. in pervasive computing, wireless navigation systems, and mobile smart agent development. He was one of 26 scientists and engineers selected nationwide to serve as a member of an inaugural NSF Advisory Board on cyberinfrastructure.
"My mission as the VP for IT is to use technology to empower Hampton University to achieve its goals by providing innovative solutions that are secure, reliable, and efficient," said Dr. Oladipupo. "Being back at Hampton gives me the feeling of a prodigal son who is warmly and lovingly welcomed back home. This is where I started my career and glad to be back at our Home by the Sea."
###