Gala Celebration – THE HARVEY YEARS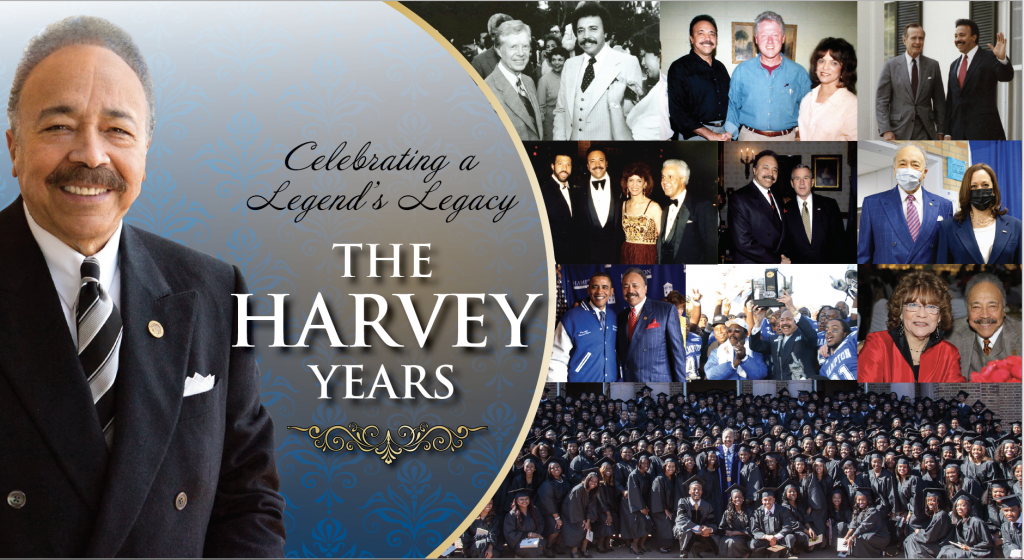 Celebrating A Legend's Legacy
THE HARVEY YEARS
Dr. William R. Harvey arrived on the campus of Hampton Institute, in 1978, to take over the reigns as leader of an institution that was slowly losing ground. Many wondered why he chose Hampton. Other institutions, including majority institutions and more financially stable institutions, had offered him presidencies, but he decided to accept the position at Hampton. He chose Hampton because he wanted to be in a place where he could offer the greatest service and make a difference. Dr. Harvey has often stated that choosing Hampton was the best professional decision of his life!
It is virtually impossible to express in words the debt of gratitude the entire Hampton University community carries ever so deeply for Dr. Harvey. The news of his retirement is likely to draw a full range of emotions because he has touched the lives of so many. His legacy is rich and indelible on nearly every inch and across every page in the annals of the historic campus.
Now, following a steady, four-decade plus climb of greatness, Dr. Harvey will move on to his next chapter of service on July 1, 2022. In honor of Dr. Harvey's retirement, Hampton University is proud to host Celebrating a Legend's Legacy: The Harvey Years Gala on Saturday, June 11, 2022 at the Hampton University Armstrong Stadium starting at 6 pm.  This event is open to the public. Hampton University's COVID-19 guidelines will be in effect.
Funds raised from the Gala will go towards supporting scholarships; specifically, the new Harvey Legacy Endowed Scholarship and the Harvey Legacy Current-Use Scholarship.
The black-tie affair features a gourmet dinner, dancing, networking, and a live musical performance that will leave guests with unforgettable memories and keep them smiling on the dance floor all night as we celebrate a legend in higher education and business.
Get your tickets now, as they are going fast! For additional information, call 757-728-4012 or email HarveyYearsGala@hamptonu.edu