Hampton University's 48th Annual Honors Day
April 8
@
1:30 pm
–
5:00 pm
Hampton University Honors Day 2023 – Ogden Hall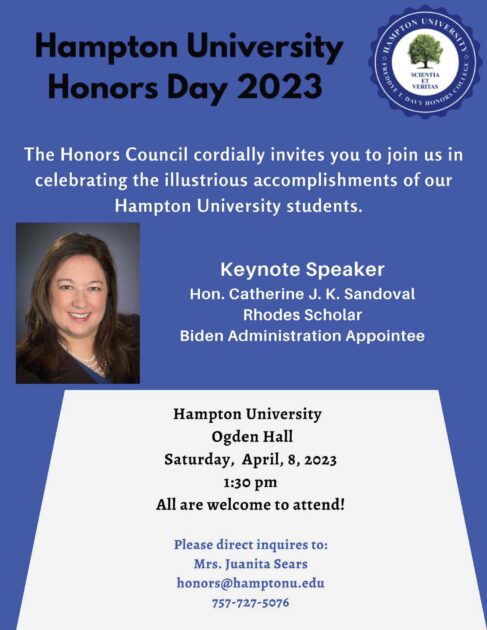 This coming Saturday, April 8th at 1:30 pm, the entire University and members of the broader Hampton community will gather in Ogden Hall to celebrate Hampton University's 48th Annual Honors Day.  This very special occasion, which is nearly half a century old in tradition, is annually one of the great highlights of the spring semester — representing a moment when the entire HU family gathers to acknowledge and celebrate our high-achieving students.   Students will receive departmental and honor society awards, as well as other top recognitions of their scholarship, leadership and service.  A major feature of the Honors Day ceremony will be the annual presentation of the President's Cup Award — the top honor awarded to a graduating senior at Hampton University.  The recipient's name is announced at the event.
The keynote speaker for Honors Day will be the Honorable Catherine J.K. Sandoval, a Biden Administration appointee (confirmed unanimously in January of this year by the U.S. Senate) and the first Latina to receive a Rhodes Scholarship. Sandoval is an alumna of Yale, Oxford, and Stanford Universities and is a tenured law professor at the University of Santa Clara.
The theme for the 2023 Honors Day is: "Honors as Key to the #1 Student Experience in America". The event is hosted by the Honors Council, which is chaired by Dr. Carlton Long, Director of the Freddye T. Davy Honors College.
All are invited to attend. Administrators, faculty, staff and students will be present at this amazing campus-wide event. Students will be honored, parents and friends are welcome, as are members of the general public. Inquiries may be directed to Mrs. Juanita Sears: (757) 727-5076.