HAMPTON, Va. (Sept. 20, 2022) —Hampton University will officially mark the beginning of a new chapter in its storied 154 year history as alumnus and the university's 13th President Darrell K. Williams will present the keynote address at the 79th Annual Opening Convocation on Sunday, September 25, 2022. Opening Convocation will be held in historic Robert C. Ogden Hall and will begin at 10:45 a.m. This event is open to the public.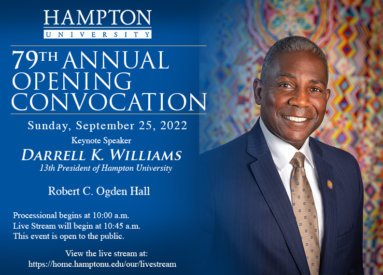 "It is my honor and pleasure to announce that Darrell K. Williams, Hampton University's 13th President, will deliver the keynote address at the 79th Annual Opening Convocation," said Dr. Karen Ward, Chair of the Ceremonial Occasions Committee and Old Dominion Endowed Chair of Fine and Performing Arts. "This is a true full circle moment as President Williams sat in the very seats our students will be in. His more than four decades of proven success as a leader is a wonderful example to which our students may aspire. Hampton University is honored to welcome President and First Lady Myra Richardson Williams back to their Home by the Sea, and we look forward to what is sure to be an outstanding charge from the President to the assembled students, faculty, staff, alumni, parents and other friends of Hampton."
During this ceremony, Dr. Jean Muhammad, chair of the Department of Computer Science in the Hampton University School of Science will be presented the 2021-2022 E. L. Hamm, Sr. Distinguished Teaching Award. Since the 1960-61 academic year, Hampton University has recognized outstanding faculty members who have distinguished themselves in the endeavor of promoting quality, positivity, hard work, and service through The Christian R. and Mary F. Lindback Distinguished Teaching Award. In 1994, the award was renamed the Edward L. Hamm, Sr. Distinguished Teaching Award. Each year, one or two faculty members receive the award after being nominated by their peers and/or students and selected by the university president. The recipients consistently attain teaching excellence by going above and beyond in the classroom and inspiring their students to have a passion for learning and a commitment to excellence.
The keynote speaker, President Williams, hails from West Palm Beach, Florida and brings to Hampton University more than four decades of proven success in leading complex domestic and international military, government civilian, academic institutional, and commercial business organizations. He served for over 37 years in the U.S. Army, his final 11 years at the executive and enterprise levels.
While a student at Hampton, President Williams was Mister Freshman, 1979-80, a Student Leader, 1980–83, a three-year Reserve Officers' Training Corps (ROTC) scholarship cadet, a member of the Gamma Iota Chapter of Alpha Phi Alpha Fraternity, Incorporated, and senior class president, 1982-83 academic year. His wife, Myra Richardson Williams, also a Hamptonian, was a four-year member of the Hampton University concert choir and member of the Gamma Iota Chapter of Delta Sigma Theta Sorority, Incorporated.
President Williams returns to Hampton from Leidos, a Fortune 250 information technology company, where he served as Vice President and Managing Director of the $9 billion United Kingdom (U.K.) Ministry of Defense Logistics Commodities and Services Transformation (LCST) contract, providing global logistical support to U.K. military forces.
President Williams' professional affiliations include Board of Directors, National Industries for the Blind; founding board chair, Mary S. Peake Fellowship; former member of Board of Directors, Leidos Supply, Limited; advisory board, Solugen Inc.; member, Council on Foreign Relations; former Executive Fellow for the Institute for Defense and Business; life member, Association of the U.S. Army; life member, ROCKS, Incorporated; and member, The Alpha Phi Alpha Fraternity, Incorporated.
Among numerous honors, Williams has been awarded the U.S. Defense Distinguished Service Medal, U.S. Army Distinguished Service Medal, U.S. Defense Superior Service Medal, U.S. Defense Superior Service Medal, U.S. Army Legion of Merit, and U.S. Armed Forces Bronze Star Medal. He is a member of the U.S. Army Cadet Command Reserve Officer Training Corps (ROTC) and the U.S. Army Quartermaster Corps Halls of Fame and a 2020 recipient of the Army Lieutenant General Arthur J. Gregg Sustainment Leadership Award. He also received the Journal of Black Innovation 2020 Fifty Most Important African Americans in Technology Award and the 2018 Hampton University Distinguished Alumni Award. He is a 1983 Distinguished Military Graduate of the Hampton Institute ROTC program.
The Opening Convocation Ceremony will be live-streamed at https://home.hamptonu.edu/our/livestream.
About Hampton University
Hampton University is a comprehensive institution of higher education, dedicated to the promotion of learning, building of character and preparation of promising students for positions of leadership and service. Its curriculum emphasis is scientific and professional with a strong liberal arts under girding. In carrying out its mission, the University requires that everything that it does be of the highest quality. A historically black institution, Hampton University is committed to multiculturalism. The University serves students from diverse national, cultural and economic backgrounds. Research and public service are integral parts of Hampton's mission. In order to enhance scholarship and discovery, the faculty is engaged in writing, research, and grantsmanship. In achieving its mission, Hampton University offers exemplary programs and opportunities which enable students, faculty and staff to grow, develop and contribute to our society in a productive and useful manner. Visit www.hamptonu.edu for more information.