HAMPTON, VA. (Nov. 7, 2022) – Dr. Neelam Azad, University Endowed Professor of Pharmacy, has been appointed vice president for research at Hampton University (HU). Dr. Azad joined Hampton University in 2008 as assistant professor of pharmacy and quickly rose through the ranks to chair of the Department of Pharmaceutical Sciences in 2014. She attained full professorship in 2019. Since her arrival at the University, she has been productive in basic and translational biomedical research, particularly in areas of lung pathology and cancer cell biology.
"I am committed to developing interdisciplinary research initiatives and establishment of core resources available to our new investigators with the goal of increased productivity and grantsmanship. My focus is on the current and future health of the University's research enterprise and my goal during the next few years is to expand and strengthen the research capacity at Hampton University," said Dr. Azad.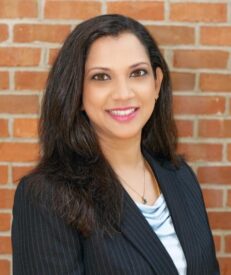 Since 2011, Dr. Azad has received continuous funding from the National Institutes of Health, totaling more than $6 million for extramural research. For approximately $3 million of the funding, she was the principal investigator. Her additional research accomplishments include a patent, 55 scientific publications in several notable journals, presentations at various national and international conferences, and features in various publications. She serves on the editorial board for several prestigious journals and is a grant reviewer for multiple funding agencies. Her research's influence is evident in her 12,000 citations and H-index of 27 of her published work.
Dr. Azad is the recipient of the inaugural Hampton University President's Ambassador for Academic Excellence in recognition of her commitment and research accomplishments. In addition, she has received the Faculty Scholar in Cancer Research award from American Association for Cancer Research for three consecutive years. Notably, Dr. Azad has also received the "Professor of the Year" award from the University's School of Pharmacy for three consecutive years, and the Provost's Academic Excellence Faculty Award.
Dr. Azad is a Leadership Fellow with the American Association of Colleges of Pharmacy. She was named a University Endowed Professor by the former University president in recognition of her accomplishments. She also briefly served as the director of the Cancer Research Center and the assistant vice president for research at Hampton University before assuming her current position.
Dr. Azad is a native of Mumbai, India where she completed her Bachelor of Pharmacy degree in 2001. She earned the Ph.D. in pharmaceutical and pharmacological sciences in 2007 from West Virginia University. On the personal front, Dr. Azad and her husband Dr. Anand Iyer, Dean of the School of Pharmacy at Hampton University, live in Yorktown, Virginia with their two children – daughter, Ravya and son, Viraaj.