HAMPTON, Va. (Nov. 7, 2022) – The Hampton University Office of Admission provided free transportation for Hampton and Newport News high school students to attend the 20th Annual Alfred Street Baptist Church HBCU Fair on Oct. 8. The event took place on the University of the District of Columbia's campus in Washington D.C.
Students and parents representing each Hampton and Newport News public high school participated in the one-day excursion, which was sponsored by Hampton University. This activity was President Darrell K. Williams' plan in the effort to build stronger relationships with the local community and school systems. The President was on-site to greet students and parents as they boarded two University buses. He stated, "While we would love for each of you to attend Hampton University, it is more important to us that you continue your education at an institution of higher education. This is our effort to provide exposure to all of the many HBCUs that are available to students throughout the country.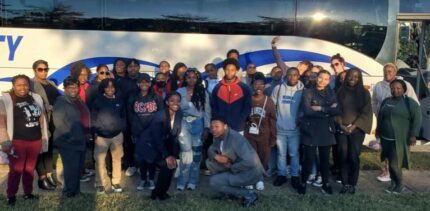 More than 5,000 students and parents from across the country attended the fair, a recruitment program that featured on-site interviews, admission, and financial planning seminars. Alfred Street Baptist Church's College Fair is one of the largest recruitment events in the country for HBCUs. It attracts prospective students from all across the United States. Angela Nixon Boyd, assistant vice president for Enrollment Management and Dean of Admission represented the University at the fair and confirmed that Hampton University was one of the most popular schools in attendance.
"During the entire four-hour event, foot traffic never stopped. Without the support and assistance from several alumni chapters, including Northern Virginia and Prince George's County, we would not have been able to manage the massive number of interested students.