HAMPTON, Va. (Nov. 29, 2022) — Hampton University's Department of Computer Science has been named #2 in Best Colleges 2022 ranking of the 10 Best HBCUs for Computer Science Programs.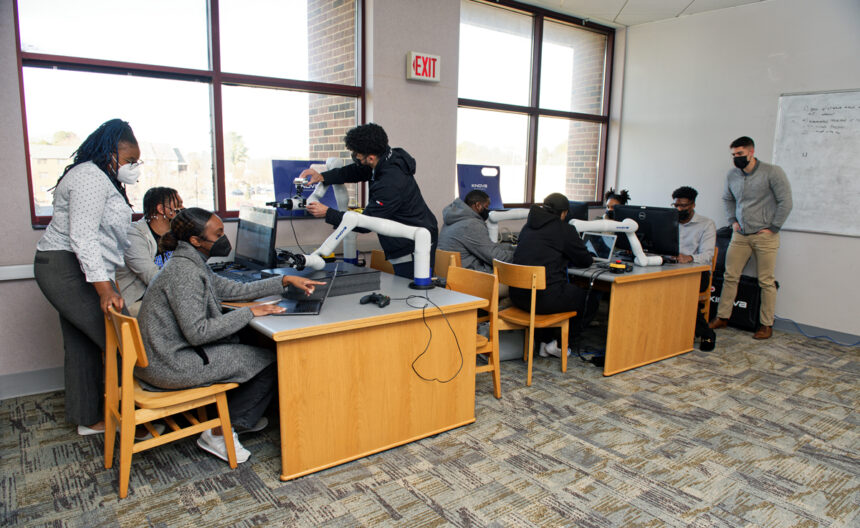 The Hampton University Computer Science program was recognized for its work to increase the diversity of the STEM workforce through various programs such as Student Airborne Science Activation and other computer science initiatives. Community outreach efforts help to develop interest in engineering and science in local schools. The Student Success Center also provides connections that support student health and wellness, advising services, and learning strategies. Notable faculty and/or alumni include Mary Jackson, who was an African-American mathematician and aerospace engineer at NASA, and Sylvia Trent-Adams, who served as acting surgeon general of the U.S.
"The Department of Computer Science at Hampton University is honored and proud to be considered the #2 HBCU Computer Science Program from Best Colleges," said Dr. Dr. Jean Muhammad, Chair of the Hampton University Department of Computer Science. "All of our faculty are dedicated to the success of all of our students. Within the last 8 years we have had 100% placement of our graduates. We are proud to state that our students are placed and employed in the Top industries around the country: Google, Microsoft, Apple, Accenture, Deloitte, Lockheed Martin to name a few. In addition, our students are attending and graduating from some of the Top graduate schools as well: Carnegie Mellon, Stanford, Georgia Tech, MIT, Rochester Institute of Technology. Going forward our current and future plans are to move to number 1."
Two important factors inform Best College's rankings for the list of the best HBCUs for computer science programs: accreditation and academic outcomes. Accreditation: Each school featured on the list is certified and accredited by the Accreditation Board for Engineering and Technology (ABET). This board works collectively with four separate commissions in applied and natural sciences, computing, engineering, and engineering technology to select schools that meet the minimum program standards for STEM education. In total, there are approximately 15 HBCUs that are accredited by ABET as of the 2021-2022 academic year. Academic Outcomes: The additional factor evaluated for this ranking is academic outcomes. There are many facets of academic quality to consider when it comes to college. But for this list, Best Colleges chose to focus specifically on the six-year graduation rate and retention rate to not only signify the rate that students choose to stay at their institutions after their first year but also how they navigate college life to complete their degree and graduate from college.
"The School of Science and I continue to be proud of the stellar works of Dr.Muhammad and her colleagues within the Computer Science department," said Dr. Isi Ero-Tolliver, Dean of the Hampton University School of Science. "With her leadership, we continue to excel within our programs, including being designated as a National Center of Academic Excellence in Cyber Defense for the NSA-Validated Programs of Study through the academic year 2027. Any student graduating from this program will be prepared for real world experiences and matriculation to the next steps!"

Historically Black colleges and universities (HBCUs) have recently increased efforts to encourage BIPOC students (Black, Indigenous, and people of color) to enroll and major in science, technology, engineering, and math (STEM) fields.These efforts include everything from developing pipelines from secondary schools to providing culturally relevant support programs on campus.HBCUs contribute significantly to the economy by providing pathways of opportunity to many first-generation students. In spite of a historic lack of funding, HBCUs have produced 42% of Black engineers and 47% of Black women engineers.
The Hampton University Department of Computer Science offers coursework leading to the Bachelor of Science degree in Computer Science, in Computer Information Systems, and in Cyber Security – Computer Science Track. These programs are designed for students who plan to pursue in-depth training in one or more software application areas for entering the workforce. In addition, the Department prepares students for further graduate education in computer and information sciences. Coursework leading to the Master of Science degrees in Computer Science and in Cyber Security is provided.
The Hampton University Department is located in the Wilma Harper Horne Science & Technology Hall and has state-of-the-art computer resources, and an enviable record of placing its students in positions of employment or in graduate school. The Department has a freshman mentoring program, peer-tutoring program, and one on one curriculum advisement to ensure successful matriculation at Hampton University. In addition, the Department of Computer Science has a 98% placement rate (full-time employment and/or graduate school acceptance for graduating seniors.
For more information please visit: https://home.hamptonu.edu/science/computer-science/
To see the full rankings visit: https://www.bestcolleges.com/computer-science/top-hbcus/