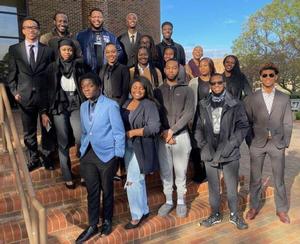 HAMPTON, VA (Jan. 4, 2022) — Hampton University students participated in a three-day Startup Entrepreneurship Boot Camp from Friday, October 28 to Sunday, October 30, 2022. The program introduced entrepreneurship methods to aspiring entrepreneurs from diverse backgrounds. Students learned how to recognize and act on opportunities in the market by designing a business model, developing a prototype, working with expert mentors, and pitching ideas. This boot camp was sponsored by Ferguson, a member of the School of Engineering and Technology Engineering Advisory Board. Black Ambition, an organization founded by Pharrell Williams, provided a $10,000 cash prize, which was divided among camp participants. Norfolk State University students also participated in the boot camp.
Dr. Joyce Shirazi, Dean of the School of Engineering and Technology, said, "We are very proud of our students. They always come ready to learn and they love it when there is an element of competition involved. They learned how to pitch and promote their innovative projects."
Student teams were formed on the first day of the camp, and facilitators led the groups through early concepts. During the second day of the camp, student groups focused on business model formation and testing of their business hypotheses. Mentors from Ferguson provided expert feedback and support. On the final day of the camp, participants engaged in intensive pitch workshops and delivered their pitches through presentations. Each presentation was made before a panel of entrepreneurship and business experts. Facilitators from Build in Tulsa, a program that seeks to close the racial wealth gap in America, and Novus supported the boot camp.
Dr. Jerald Dumas, dean of Hampton University's Graduate College, associate professor of chemical engineering, and Hampton's organizer for the boot camp said, "This experience was especially impactful for our engineering students as we strive for them to consider 'human-centric' elements in their designs."
Hampton University students won the following portions of the $10,000 cash prize:
$2400 Team Umni $1900 Team Hydrosource
Brian Eric Montgomery Jr Briana Webster
Helen Nkechinyere Kalu Andres Syphrett
Joshua White Anthony Akins
Quinton Maddox
$1650 Team V-Tints $500 Team xMELA
Khalid Hampton Maasai Thornton
Jihaad Barnett Jasmyn Gyapong
Trevor Blow Chi'conna Gober
Anton Goldsmith
For more information, contact the Office of University Relations at 757.727.5253.
About Hampton University
Hampton University is a comprehensive institution of higher education, dedicated to the promotion of learning, building of character and preparation of promising students for positions of leadership and service. Its curriculum emphasis is scientific and professional with a strong liberal arts under girding. In carrying out its mission, the University requires that everything that it does be of the highest quality. A historically black institution, Hampton University is committed to multiculturalism. The University serves students from diverse national, cultural and economic backgrounds. Research and public service are integral parts of Hampton's mission. In order to enhance scholarship and discovery, the faculty is engaged in writing, research, and grantsmanship. In achieving its mission, Hampton University offers exemplary programs and opportunities which enable students, faculty and staff to grow, develop and contribute to ou