Hampton University's SHSJC Journalism Student Morgan Norris and Dean Julia Wilson Among HBCU Attendees

(WASHINGTON, D.C.) – U.S. Vice President Kamala Harris and Keisha Lance Bottoms, Special Adviser on Social Engagement to President Biden hosted aspiring journalists and educators from 40 of America's top Historically Black Colleges and Universities at the White House on Feb. 23, imploring attendees to take the lead in communicating the role and achievements of Blacks in America.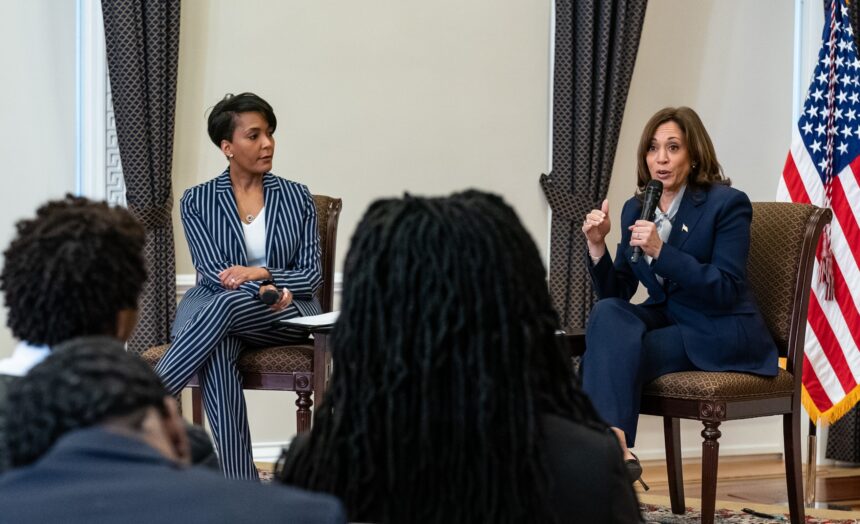 "We are requiring you to lead," Harris told the attendees. "We are counting on you to help us educate our world about who we are as Americans." Bottoms, former mayor of Atlanta, also has emerged as a strong advocate for HBCUs in the Biden White House.
"Morgan demonstrated her innate leadership capabilities by being the first student to stand on the White House media briefing room podium – and then the other students followed her lead," Wilson said. "She also made sure to sit in the front row of the briefing so that the vice president and special adviser were talking directly to her She exemplified our school's excellence and competitive spirit. At Hampton, we already are answering Vice President Harris' clarion call. Our students are ready to compete, ready to participate and ready to lead – nationally and globally."
Among those attending the White House briefing were Hampton University's Scripps Howard School of Journalism and Communications sophomore journalism student Morgan Norris and Dean Julia A. Wilson.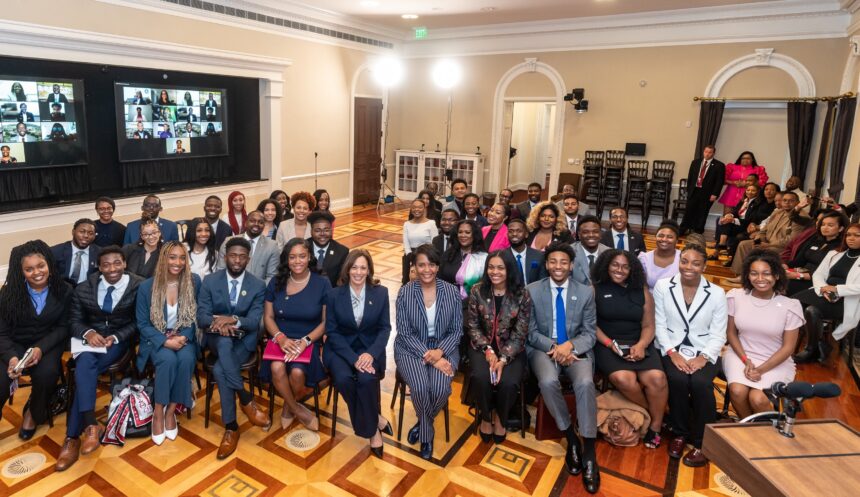 Norris credited her participation in the White House visit as "a confirmation of Dean Wilson's confidence and faith in the leadership of her student journalists."
About the Scripps Howard School of Journalism and Communications
Founded in 2002, the Scripps Howard School of Journalism and Communications emphasizes excellence and innovation while adhering to core industry standards and ethical principles. The Scripps Howard School is equipped with a professional television studio and control room, a live, FM radio station (WHOV 88.1 MHz) with digital streaming to the Internet, high-tech classrooms equipped with state-of-the-art Promethean boards and a 150-seat stadium-style media auditorium. Students and alumni have worked in internship positions and launched media careers with top-ranked organizations such as Google, NPR, Radio One, The Washington Post, Essence Magazine, Time Magazine, ESPN, USA Today, Bloomberg News, Ogilvy, Burson-Marsteller, ABC, CBS, NBC, CNN and many more. Visit: https://home.hamptonu.edu/shsjc/ for more information. Link to student Morgan Norris story:
About Hampton University
Hampton University is a comprehensive institution of higher education, dedicated to the promotion of learning, building of character, and preparation of promising students for positions of leadership and service. Its curriculum emphasis is scientific and professional with a strong liberal arts undergirding. In carrying out its mission, the university requires that everything that it does be of the highest quality. A historically Black institution, Hampton University is committed to multiculturalism. The university serves students from diverse national, cultural and economic backgrounds. Research and public service are integral parts of Hampton's mission. To enhance scholarship and discovery, the faculty is engaged in writing, research, and grantsmanship. In achieving its mission, Hampton offers exemplary programs and opportunities which enable students, faculty and staff to grow, develop and contribute to our society in a productive and useful manner. Visit www.hamptonu.edu for more information. For more information please visit: https://home.hamptonu.edu/
###