HU VP for Institutional Effectiveness and Strategic Planning Scores National Rank for His Work as Mayor of Newport News, VA.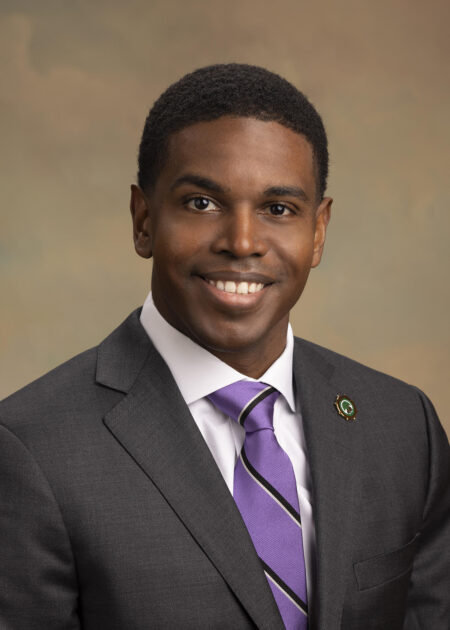 Hampton, Va. (June 5, 2023) – Hampton University VP for Institutional Effectiveness and Strategic Planning, Phillip Jones, has been named a NewDEAL leader for his work as Mayor of Newport News. He joins the ranks of national leaders including U.S. Delaware Senator Chris Coons, U.S. Secretary of Transportation Pete Buttigieg and former Georgia State Representative Stacey Abrams.
NewDEAL Leaders are pro-growth elected officials championing ideas to grow the economy, expand opportunity for all, and improve government operations. Jones was selected as one of 22 leaders from across the U.S. recognized for their efforts and vision.
Jones is currently serving as the 27th Mayor of Newport News, Virginia, where his eye is set on building the city to become an All-American hotspot by modernizing processes, leveraging partnerships, and elevating the city's narrative on a national scale. Having a robust background in both the public and private sectors, Jones brings a wealth of experience to the mayoral seat. Before taking office, he led troops to support peacekeeping and security cooperation missions as a Marine Corps infantry officer. A leader of leaders, he steered end-to-end strategy for Fortune 500 companies, municipalities, and nonprofits, as a management consultant for a global firm.
Holding a pivotal role at the university, he drives the execution of HU's strategic plan and supports institutional growth and efficiency goals.
In the wake of 9/11, Jones accepted a nomination to the United States Naval Academy, where he graduated with merit with a B.S. in History. He earned an M.S. in Public Policy from the Harvard Kennedy School and an M.B.A. from the Harvard Business School – where he served as a Tillman Scholar and Co-President of the Veterans Club.
For more information on the NewDeal, visit: here.
###