Department Chair's Message:
Welcome to Psychology at Hampton University, our Home By the Sea! We are indeed a vibrant department of research and teaching. Consistent with the university's mission and core values, our department is committed to academic excellence and character building. Our faculty are engaged in cutting edge-decolonized-intersectional-social justice research and pedagogical innovation that spans behavioral, clinical, cognitive, experimental, physiological, developmental, social psychology, and neuroscience. We are committed to educating the next generation of socially conscious leaders, researchers-scholars, and clinicians; with the hope that they produce forefront research and service that improves the lives of minoritized communities both within the US and globally. Our faculty are truly invested in our students' social-emotional and academic development and reman dedicated to meeting their academic needs through creative pedagogical approaches and sound academic rigor.
We invite you to peruse our webpage to learn more about our research, teaching, and clinical expertise; and to see what wonderful things our students are creating as well as the happenings of our department as a whole.
I am truly excited that I have been given the opportunity to lead our department in continuing its pursuit of academic and psychological excellence. I am committed to fostering an environment that values high academic achievement and life-career preparation for our students whom we envision, will take their learning and positively impact the lives of both urban and global communities.
During your tenure as a student, please consider getting intimately involved in our Student clubs, innovative programming, internship opportunities, and research labs. I personally give you the mandate to engage with your community on and off campus. Please feel free to reach out to me, a faculty member, or Mrs. Solomon with any questions you may have. We look forward to hearing from you and eagerly await your call on our time and talents. Ase!
Kindest Regards,
O'Shan Darius Gadsden, Ph.D.
Associate Professor
Department Chair
MLK Suite 238
757-597-5027
oshan.gadsden@hamptonu.edu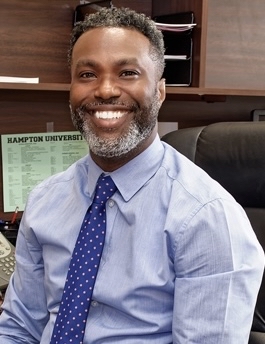 Dr. O'Shan Darius Gadsden Chair, Psychology Department