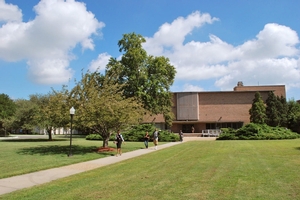 Welcome to the School of Liberal Arts and Education, a progressive learning community dedicated to helping students to reach their potential personally and professionally and to addressing global and societal needs. As members of our school family, our students learn to use research, scholarship, and art to improve human life conditions, uplift communities and serve the underserved. We are proud to be the place where the academy and the community meet.
As the largest and most diverse School at Hampton University, we offer a broad range of academic disciplines and programs designed to engage the contemporary minds of our students and to prepare and position them for success in the global marketplace. Our academic programs have long-standing reputations for excellence, innovation and cultural relevance and for preparing students for graduate school and any career.
Our student-centered and accomplished faculty members guide, assist, support and encourage our students as they engage their intellect, interests and passions in ways that will give them a hunger for lifelong learning and service.
We provide our students with the foundational knowledge and skills that make them good and global citizens and leaders, as well as social scientists, doctors, attorneys, politicians, writers, psychologists, crime scene investigators, artists, musicians, performers, graphic designers, filmmakers, scholars, etc.
On this website you will begin to get to know our administrators, faculty and students, and you will learn about our school mission and objectives, academic departments, majors and degrees offered as well as the associated curricula, and our pre-professional and co-curricular programs.
We have extraordinary opportunities available from research experiences, community service opportunities, internships, and study abroad programs.
Welcome to our family. There could not be a better place to live, learn and grow than the School of Liberal Arts at our Home by the Sea.
For more information, please contact our Admissions Office, or, email us at libarts@hamptonu.edu or call the Office of the Dean at 757-727-5400. We look forward to hearing from you!
Linda Malone-Colon, Ph.D.
Dean, School of Liberal Arts and Education
Clinical and Personality Psychologist