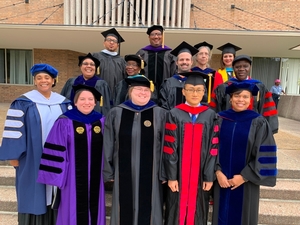 English & Foreign Languages
The Department of English and Foreign Languages offers outstanding opportunities for students thinking of careers in such varied fields as higher education, law, creative writing, business, government, and middle/secondary school teaching. In recent years, our majors have held many undergraduate fellowships before winning admission to the most selective post-graduate programs and law schools in the country, including Yale, Harvard, Stanford, Columbia, and the University of Virginia. Students in our Interdisciplinary Cinema Studies Program have secured internships in studios like Universal and Spike Lee's 40 Acres and a Mule before going on to pursue graduate study and a career in film. Many of our majors take advantage of the Advanced Studies in England Program to spend a summer or a semester in Bath, England, and take courses taught by Oxford professors.
The English major provides a rich, humanistic education that prepares graduates for success in many different fields. Students may choose from four distinct course sequences: English Arts, a relatively traditional curriculum oriented to the study of literature; Creative Writing, which covers fiction, poetry, and nonfiction; Secondary Education, which prepares students for teaching roles in secondary education; and Film Studies, which helps students to prepare for careers in film. All of the sequences reflect Hampton's historical identity. For example, students may choose courses in African American English, African American Literature, Caribbean Literature, and African Literature, as well as such traditional offerings as Shakespeare, American Literature, English literature, and Literary Criticism.
Majors who wish to become middle or secondary school teachers may also enter a five-year program that culminates in both a Bachelor's in English (B.A.) and a Master's degree in Teaching (M.T.). Our English Education majors are recruited by the most selective school districts in the country. Recently, one of our English Education majors was honored as National Teacher of the Year.

The Department of English and Foreign Languages also hosts an Interdisciplinary Program in Cinema Studies and offers a number of stimulating film-related courses. Recently, for example, students enrolled in a course in scriptwriting focused on adapting the work of novelist Omar Tyree. At the end of the course, their work was critiqued in person by Mr. Tyree.
Regardless of sequence, a major may choose among a wide variety of upper-level writing courses (including technical writing, fiction, narrative nonfiction, and argumentative writing). These courses have all been designed to develop the ability to communicate in a wide range of business, professional, and graduate school settings.
The department also offers special topics courses in subjects as diverse as "Law and Literature," "Blogging," and "The Business of Publishing." These courses enable professors to share their areas of research and particular expertise with students.

The large number of free electives in the major makes it convenient for students to minor in other subject areas, such as political science, business, and journalism. This flexibility helps them to prepare for careers in law, business, and professional writing. Alternatively, it allows them to pursue a variety of interests not necessarily related to their intended vocation.
In addition to a major in English, the department offers a minor in Spanish. The Spanish minor offers higher education by providing our students a global awareness of all 21 Spanish countries. Students will develop a high critical thinking perspective of Spanish cultures and traditions, also oral and written competency to guide students become competent in our global job market. Spanish courses are designed and focused on improving verbal and written communication skills to master the Spanish language. We spotlight Hispanic culture, literature, linguistics, and professional preparation. Spanish minor students will build up unparalleled learning experiences as they are encouraged to participate in internships with the Hispanic Chamber of Commerce, and a life educational learning experience as they study abroad, highly recommended by the English and Foreign Languages Department. Studying abroad help students learn to adapt in cross-cultural roles throughout their future career. Spanish minor students will graduate with a highly marketable skills and an enriched appreciation of Spanish-American culture.