Chair's Welcome Statement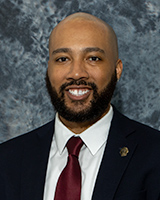 Dr. Richard Davis Dixon
Interim Chair, Psychology Department
Email: richard.dixon@hamptonu.edu
Phone: 757-728-6553
As the Chairperson of the Psychology Department, I would like to offer a warm welcome from all of our wonderful faculty and staff.  Our goal is to prepare leaders and scholars that will employ the scientific approach in their acquisition of knowledge in the major areas of psychology and to prepare them for graduate study and service in culturally diverse communities.
Our department focuses on the engagement of scholars in psychological theory and application with a strong focus on cognition, behavioral health and motivation.  We offer stimulating class discussions, the utilization of technology and cutting-edge research, innovation and passion that links to the field, the classroom and beyond. 
As Psychologist, we strive to build, to develop, to create and to lead.  We are Change Agents on multiple levels!  Seeking to understand, to inspire, to predict, to change and promote positive attitudes and behaviors.   We offer research experiences with multiple agencies.  Our faculty publish, present and cultivate minds through research, training and development. Our role is to create an environment for our undergraduate and graduate students that infuse, cultivate and inspire!