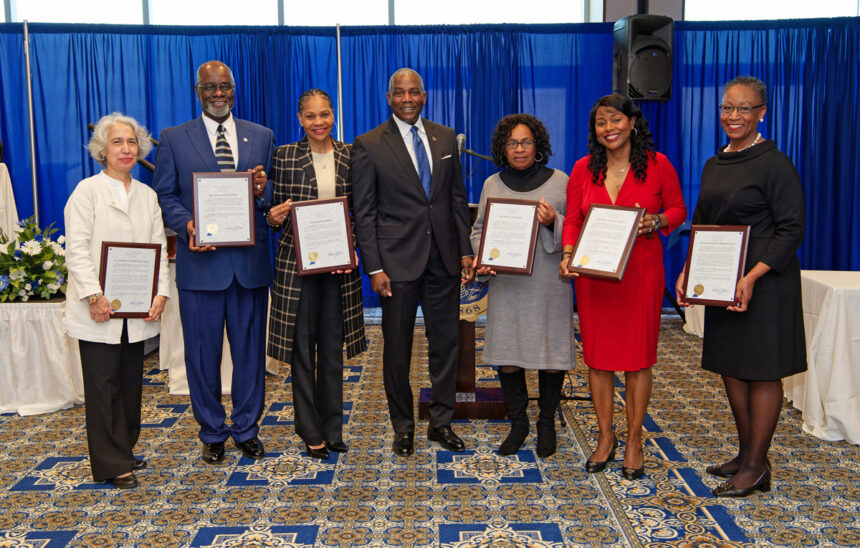 Hampton, Va. (January 31, 2023) — Hampton University President Darrell K. Williams shared a message for this year's Quarter-Century Club Inductees during the university's 130th Founder's Day celebration on January 29, "Hampton is an extraordinary place because of the special, committed people who give themselves to ensure that the University positively impacts the lives of everyone who comes through these doors," said Williams.
"Each year, we eagerly await the opportunity to recognize, to commend, and to thank those individuals," he said. "They've shared their knowledge, their skills, their talents, and indeed their hearts to continue to make Hampton University the standard of excellence that it is today."
The annual ceremony serves to recognize and honor faculty and staff who have worked at the esteemed university for a minimum of 25 years. Quarter-Century Club President Novelle Dickenson thanked the inductees for their service to Hampton. The new members include Charles Cherry, Department of Architecture; Margaret Dismond Martin, Office of the President; Carmina Sanchez Del-Valle, Ph. D., Department of Architecture; Henry Archer, Department of Physical Plant; LoLethia Boone, Department of Auxiliary Services; Phyllis Harrigan, Department of English and Foreign Languages; Minetta Highsmith, Office of Development; and Algustus Thompson, Department of Purchasing.