Hampton, Va. (March 14, 2023) – Hampton University Senior, Kemia Bridgewater, from Detroit, Michigan has been named a McDonalds 2023 Black & Positively Golden Change Leader. McDonald's USA has a long history of investing in Black leaders who are taking steps now to create a brighter tomorrow.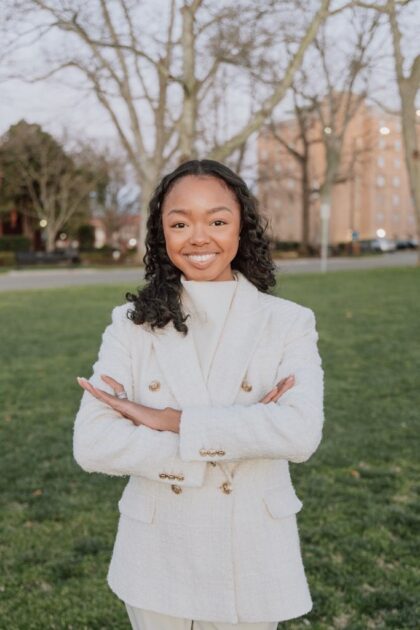 "This program was created to provide the proper resources needed to help young Black community leaders succeed in their endeavors. These change leaders have the opportunity that we know will have a lasting impact on their communities, and we remain committed to not only celebrating but assisting change makers of the future," said Alexea Gordon, McDonald's Manager of Cultural Engagement.
Bridgewater is pursuing a Bachelor of Science in Criminal Justice Degree. She is co-founder of First Generation Gems, an organization whose mission is to mentor and empower minority first generation college students and to provide them with additional resources to succeed during their academic tenure.
Another goal is to pair mentors and mentees to navigate as first-generation students and to invest into every scholar by providing workshops, professional development, addressing and recognizing systemic inequalities, and promoting inclusivity.
As a student leader in the Greer Dawson Wilson Student Leadership Training Program, Bridgewater has learned to put her best foot forward in everything she does and
how to effectively communicate her thoughts.  She is also a Student Support Services Peer Mentor and Student Support Services Vice President of Social & Cultural Affairs.  Looking towards the future, "First Generation Gems will continue to be a priority for me as we will continue to expand outreach in our communities, and elevate the resources
we provide," said Bridgewater.
Each Change Leader will receive $20,000, totaling $200,000 collectively, and will have access to elevated platforms to amplify their community missions, ranging from financial literacy to equality across the education system to mental health advocacy.
                                                                                     ###
About McDonald's USA
McDonald's USA, LLC, serves a variety of menu options made with quality ingredients to millions of customers every day. Ninety-five percent of McDonald's approximately 13,500 U.S. restaurants are owned and operated by independent business owners. For more information, visit www.mcdonalds.com, or follow us on Twitter @McDonalds and on Facebook at www.facebook.com/mcdonalds.
For more information visit: First Generation Gems Community Organization
We aim to mentor and empower minority first generation college students during their academic tenure. #firstgenerationgems