FOR IMMEDIATE RELEASE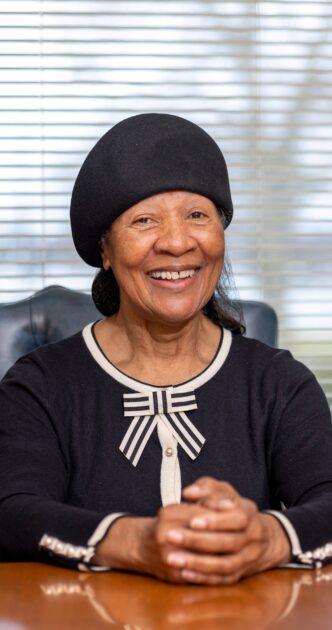 Hampton, VA April 12, 2023 – Hampton University Provost and Chancellor JoAnn Haysbert, Ed.D. has been named to the 2023 "Top 25 Women Making a Difference in the World of Academia" by Diverse: Issues In Higher Education magazine, an annual list that showcases the exceptional contributions and leadership skills of women in the academic world.
"Dr. Haysbert has been an instrumental leader at Hampton University for several decades, providing guidance and insight that have strengthened Hampton's reputation and success," said HU President Darrell K. Williams. "Her exceptional work ethic, combined with unparalleled vision and expertise, have made her one of the most respected academic leaders in the industry today."
A prolific grant writer and fundraiser, Dr. Haysbert has secured both public and private funds for Hampton University and has spearheaded numerous initiatives that have improved the quality of education, research, and the student experience on campus. She has also been a critical voice during the transition in leadership, maintaining a keen eye on the preservation of the standard of excellence known as Hampton University.
"I have been at Hampton from 1980 through 2005 and from 2011 until present for a total of 37 years," said Dr. Haysbert. "I am humbled by the honor, and it confirms my belief that according to II Chronicles 26:5: 'As long as he sought the Lord, God made him prosper.' I also hope that my journey as a first-time college graduate from a small town in South Carolina will serve as an example to others, that 'performance does count'," she said.
About Diverse: Issues In Higher Education
For more than three decades, Diverse: Issues In Higher Education has been the premier source of timely news, provocative commentary, insightful interviews and in-depth special reports on diversity in higher education. Savvy individuals who appreciate the crucial and ever-changing role that higher education plays in the lives of students, professionals, their families, and their communities make reading Diverse a regular habit. For more information, visit Diverse: Issues In Higher Education (diverseeducation.com)
About JoAnn W. Haysbert, Ed.D.
JoAnn Haysbert, Ed.D., provost and chancellor at Hampton University, has served for more than four decades as chief academic officer, delivering strategic and inspired leadership that focuses on supporting faculty, promoting continuous growth in research activity, and delivering a rich student experience. She has held positions at Virginia State University, Auburn University, and Alexander City State Junior College.
She has served on professional boards, including the National Campus Compact and the Board of Trustees and Nominating Committee of the College Board. Dr. Haysbert is a member of the Hampton City Schools Advisory Board and the Board of Trustees of the Southern Association of Colleges and Schools Commission on Colleges. She holds the BA degree in Psychology from Johnson C. Smith University, the M.Ed. degree in Educational Administration and the doctoral degree in Educational Administration with a teaching specialization in Psychology from Auburn University. She was also selected to participate in the Harvard University Graduate School of Education, Institute for Educational Management.
For more information, visit: https://home.hamptonu.edu/administration/provost/
About Hampton University
Rich in history, steeped in tradition, Hampton University is a dynamic, progressive institution of higher education, providing a broad range of technical, liberal arts, and graduate degree programs. In addition to being one of the top historically Black universities in the world, Hampton University is a tightly-knit community of learners and educators, representing 49 states and 35 territories and nations that is committed to Delivering the #1 Student Experience in America.
For more information, visit: https://home.hamptonu.edu/
###