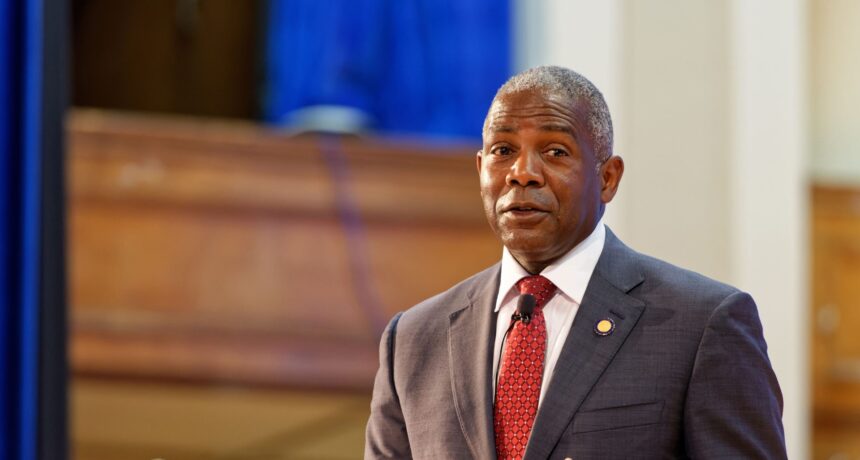 Hampton, VA (June 22, 2023) – In a remarkable display of leadership, Hampton University has experienced an unprecedented surge in enrollment, deepening its position as a premier destination for aspiring students. This Fall, the university will welcome a freshman class of 1,292* students – a 39% increase from the 2022-2023 academic year.
This achievement stands as a testament to the transformative power of a revitalized commitment to student success and urgency in execution. President Williams has rewritten the narrative of transitions in leadership in higher education. Under his stewardship, Hampton has experienced an energizing hope and heightened performance. His strategic emphasis on academic excellence, innovation, and delivering the #1 student experience in America has been pivotal in attracting an influx of talented students seeking an exceptional collegiate experience.
May 1 marked National College Decision Day, commonly regarded as the deadline for prospective students to formally accept offers of admission and send in enrollment deposits.
Hampton saw students commit earlier and at a historic rate than ever before. University Dean of Admissions, Angela Nixon Boyd, said, "Our goal was 1,200 [incoming students]. We surpassed the goal and have now had to waitlist students." Qualified applicants who would have otherwise received an acceptance letter are now being held on a waitlist. If an admitted student changes their mind, the admissions team will refer to the waitlist on a first come, first served basis to fill any openings for the upcoming school year. The waitlist currently sits at a hefty 1,152*.
Admitted students took to social media to announce their college decision, sharing unique videos and photos in a viral storm that lasted days and caused engagement to skyrocket a whopping 351%. The University continues to see an upward trend in engagement from committed students and the high schools and organizations to which they belong.
Incoming students aren't the only ones impressed; current students have expressed their approval of the Williams administration. Retention rates from Fall to Spring semester held strong with freshmen at 96% and continuing students at 93%. – a promising indicator of a booming campus experience for the 2023-2024 academic year.
Hampton's alumni base has been a conduit for the delivery of the President's mission. The National Hampton Alumni Association worked closely with the Office of Admissions to deepen student recruitment efforts, representing the University at events across the country that resulted in an uptick of committed students in several states, namely, Florida, Texas, and California. President Williams and First Lady Myra Richardson Williams prioritized efforts to establish a genuine camaraderie with alumni chapters as they traveled to personally share the Hampton story. "The energy that he and his wife bring to the University has certainly permeated throughout the country," Dean Boyd shared.
As news of this achievement travels in academia and military circles alike, it has proven President Williams' strength, candor, and esteem – earning both admiration and accolades nationwide.
For more information, visit: https://home.hamptonu.edu/admissions/
*as of June 14, 2023
###