FOR IMMEDIATE RELEASE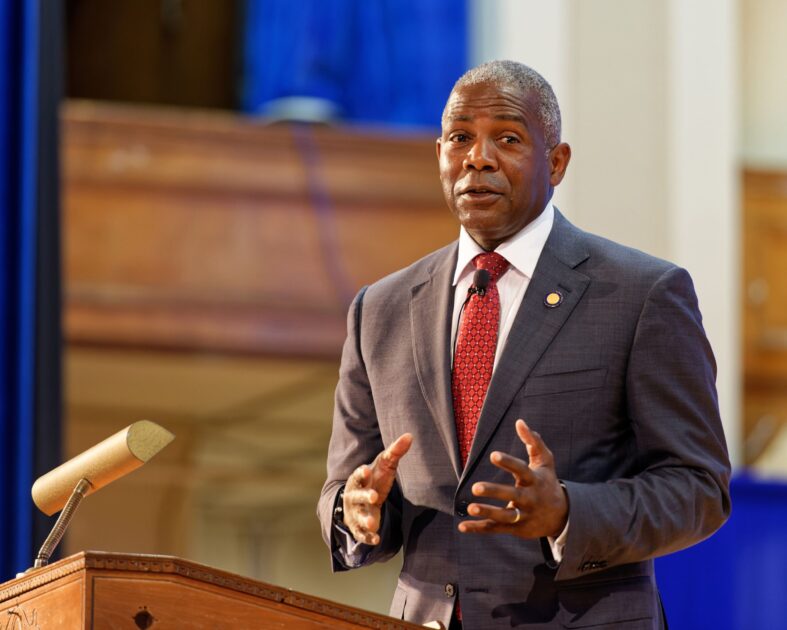 Hampton, Va., (May 26, 2023) – Adding to a list of exceptional firsts, President Darrell K. Williams has been named to the 2023 Inside Business Power List. The university president is listed among 60 Power Players having the most influence to drive economic growth in Hampton Roads. This recognition affirms coastal Virginia's energizing response to his leadership and the impact President Williams yields as he establishes his legacy on campus and beyond.
Annually published, the Power List is a curation of Hampton Roads' who's-who with a special interest in changemakers actively shaping vital sectors of the community. President Williams, a 1983 alumnus, demonstrates commitment to collaborating with the community at-large, aiming to fortify the region by fostering workforce opportunities that attract and retain desirable talent.
Williams took office July 1, returning to his Home by the Sea after a dynamic run at Leidos, a Fortune 250 technology company, where he served as Vice President and Managing Director of a global $9 billion contract with United Kingdom's Ministry of Defense Logistic Commodities Services Transformation (LCST).
The Retired U.S. Lieutenant General is proud to lead Hampton and its global network of supporters into a new era. Charting a course to deliver the #1 student experience in America, the president sets out to produce young men and women of character who are prepared to assume positions as world leaders. For more information, visit: https://home.hamptonu.edu/
###