Career Readiness Events
Federal Government Day, SLAE Days – Compelling Careers, and An Evening with Ving Rhames
HU Announces Career Readiness Events to Prepare Students for High Demand and Public Service Careers Featuring Notables such as Ving Rhames, Nov. 14-16
HU's Federal Government Day, "Level Up to Public Service," will kick off the three-day series of events on Nov. 14th.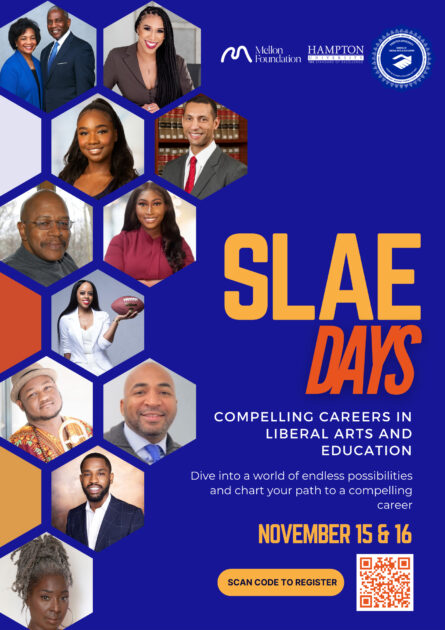 "Federal Government Day is a major career readiness opportunity for Hampton University students to connect with leaders from federal government agencies," said Linda Malone-Colon, Ph.D., dean, HU School of Liberal Arts and Education. "Students will have the opportunity to learn the benefits of a career in the federal government and public service, explore paid internships and career opportunities and even receive hands-on instruction on navigating the federal jobs portal."
"We are excited to also launch the second annual SLAE Days: Compelling Careers in the Liberal Arts and Education event on Nov. 15 and 16, to enhance students' awareness of the many professional options and pathways to career success available to them as majors in the Liberal Arts (Arts and Humanities, and Behavioral and Social Sciences) and Education," said Malone-Colon.
A series of fireside chats and keynote presentations will directly connect our students with a variety of professionals and leaders from various careers for liberal arts and education majors.
"What makes this event even more extraordinary is that many of the presenters are Hampton alumni who were themselves Liberal Arts and Education majors," said Malone-Colon. "We even have an exciting event with Ving Rhames, Wednesday evening at 6:30pm.
"Compelling Careers" includes two days of panels and keynotes designed to increase students' prospects for career and graduate school success by:
Learning about career opportunities, entry-level positions and graduate programs in their disciplines;
Giving them access to opportunities in the many professions available to them through their education in the academic disciplines in the Liberal Arts and Education;
Introducing them to alternative career paths that they might not have thought about previously;
Networking and speaking one-on-one with potential employers and graduate program representatives in the liberal arts and education;
Learning from and connecting with individuals who have been highly successful in their careers (particularly those who began their careers by attaining degrees in the Liberal Arts and Education).
November 14
–
November 16