Department of Chemistry and Biochemistry Faculty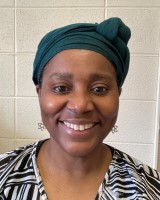 Dr. Oluwatoyin Ajibola Asojo Chair, Chemistry and Biochemistry
Location: Turner Hall223
Phone: 757-727-5396
E-mail: oluwatoyin.asojo@hamptonu.edu
Expertise: Biochemistry, drug discovery, Biophysics, education, vaccines
Dr. Oluwatoyin Asojo
Associate Professor, and Chair Chemistry and Biochemistry
Location:Turner Hall 223
Education:
PhD, 1999 University of Houston Texas
BSc with Honors, 1993 Trent University, Peterborough ON Canada
Professional Positions Held
2018 – present Associate Professor, Hampton University, Department of Chemistry and Biochemistry, Hampton, VA
2018 – 2019 Adjunct Associate Professor, Baylor College of Medicine, Houston, TX
2012 – 2017 Associate Professor, Baylor College of Medicine, National School of Tropical Medicine, Houston, TX
2005 – 2012 Assistant Professor, University of Nebraska Medical Center, Pathology and Microbiology Department, Omaha, NE
2003 – 2005 Research Assistant Professor, University of Nebraska Medical Center, Eppley Research Institute, Omaha, NE
2001 – 2003 Research Fellow, National Cancer Institute, Frederick Cancer Research Center,Frederick, MD
2000 – 2001 Staff Scientist, Tibotec-Virco, Rockville, MD
Curricular Activities / Chemistry Courses taught:
Intermediate biochemistry, biophysical chemistry, introductory physical science, and general chemistry
Research Interests and Expertise:
Chemistry of life processes: deciphering the mechanisms and structural basis of immune and suppression evasion by infectious agents or host cells. Developing improved methods for the recombinant expression, purification, solubilization and crystallization of proteins. In silicoanalysis of protein structure / function to guide functional studies of novel proteins,X-ray crystallography, biochemical, biophysical and functional analysis of macromolecules
Links to my Research
https://pubmed.ncbi.nlm.nih.gov/?term=asojo%20o&sort=pubdate
Open Researcher and Contributor ID(ORCID)
Selected Publications
1. Asojo OA*, Darwiche R, Gebremedhin S, Smant G, Lozano-Torres JL, Drurey C, Pollet J, Maizels RM, Schneiter R, Wilbers RHP. Heligmosomoides polygyrus Venom Allergen-like Protein-4 (HpVAL-4) is a sterol binding protein. Int J Parasitol. 2018 Apr;48(5):359-369. PubMed PMID: 29505764; PubMed Central PMCID: PMC5893428.
2. Darwiche R, Lugo F, Drurey C, Varossieau K, Smant G, Wilbers RHP, Maizels RM, Schneiter R, Asojo OA*. Crystal structure of Brugia malayi venom allergen-like protein-1 (BmVAL-1), a vaccine candidate for lymphatic filariasis. Int J Parasitol. 2018 Apr;48(5):371-378. PubMed PMID: 29501266; PubMed Central PMCID: PMC5893361.
3. Liu Z, Kelleher A, Tabb S, Wei J, Pollet J, Hotez PJ, Bottazzi ME, Zhan B, Asojo OA*. Identification, Characterization, and Structure of Tm16 from Trichuris muris. J Parasitol Res. 2017;2017:4342789. PubMed PMID: 28884022; PubMed Central PMCID: PMC5573103.
4. Asojo OA*. Structure of a two-CAP-domain protein from the human hookworm parasite Necator americanus. Acta Crystallogr D Biol Crystallogr. 2011 May;67(Pt 5):455-62. PubMed PMID: 21543848; PubMed Central PMCID: PMC3087624.
5. Asojo OA*, Goud G, Dhar K, Loukas A, Zhan B, Deumic V, Liu S, Borgstahl GE, Hotez PJ. X-ray structure of Na-ASP-2, a pathogenesis-related-1 protein from the nematode parasite, Necator americanus, and a vaccine antigen for human hookworm infection. J Mol Biol. 2005 Feb 25;346(3):801-14. PubMed PMID: 15713464.
6. Luo Z, Kelleher AJ, Darwiche R, Hudspeth EM, Shittu OK, Krishnavajhala A, Schneiter R, Lopez JE*,Asojo OA*. Crystal Structure ofBorrelia turicatae protein, BTA121, a differentially regulated gene in the tick-mammalian transmission cycle of relapsing fever spirochetes. Sci Rep. 2017 Nov 10;7(1):15310. PubMed PMID: 29127407; PubMed Central PMCID: PMC5681642.
7. Asojo OA*, Kelleher A, Liu Z, Pollet J, Hudspeth EM, Rezende WC, Groen MJ, Seid CA, AbdeladhimM, Townsend S, de Castro W, Mendes-Sousa A, Bartholomeu DC, Fujiwara RT, Bottazzi ME, Hotez PJ, Zhan B, Oliveira F, Kamhawi S, Valenzuela JG*. Structure of SALO, a leishmaniasis vaccine candidate from the sand fly Lutzomyia longipalpis. PLoS Negl Trop Dis. 2017 Mar;11(3):e0005374. PubMed PMID: 28278244; PubMed Central PMCID: PMC5344329.
8. Kelleher A, Darwiche R, Rezende WC, Farias LP, Leite LC, Schneiter R, Asojo OA*. Schistosoma mansoni venom allergen-like protein 4 (SmVAL4) is a novel lipid-binding SCP/TAPS protein that lacks the prototypical CAP motifs. Acta Crystallogr D Biol Crystallogr. 2014 Aug;70(Pt 8):2186-96. PubMed PMID: 25084337; PubMed Central PMCID: PMC4118828.
9. Asojo OA*, Gulnik SV, Afonina E, Yu B, Ellman JA, Haque TS, Silva AM. Novel uncomplexed and complexed structures of plasmepsin II, an aspartic protease from Plasmodium falciparum. J Mol Biol. 2003 Mar 14;327(1):173-81. PubMed PMID: 12614616.
10. Asojo O, Friedman J*, Adir N, Belakhov V, Shoham Y, Baasov T*. Crystal structures of KDOP synthase in its binary complexes with the substrate phosphoenolpyruvate and with a mechanismbased inhibitor. Biochemistry. 2001 May 29;40(21):6326-34. PubMed PMID: 11371194.
Professional Honors and Awards
Norton Rose Fulbright Faculty Excellence Award in the category of Teaching and Evaluation 2017
Carnegie African Diaspora Fellow 2016
Fulbright Specialist Roster Chemistry Education 2015 to 2021
American Chemical Society Science Coaches Program 2015 to 2017
Society for Science and the Public Science Advocate 2016
Member US National Committee for Crystallography Jan. 2015 to Dec. 2019
Member IUCr Commission on Crystallographic Teaching 2017 to 2020
Gordon Research Conference Carl Storm Underrepresented Minority Fellowship 2015
CAPES-Fiocruz/CDTS Visiting Professor Fellowship Program Brazil 2013
American Association for Cancer Research Minority Scholar In Cancer award 2012
Chair focus Panel Annual McKnight Fellows Meeting & Annual Graduate School Conference, 2008, 2015
UneMED Creator of Licensed Technology Award 2012
University of Nebraska Omaha Women of Color Award in Science and Technology 2006
Keystone Symposia Scholarship 2005
Gladys Pearson Fellowship in Pediatric Cancer 2004
Trent International Program Full Scholarship Trent University Peterborough ON Canada 1989 to 1993
United World College Full Scholarship Pearson College Vancouver BC Canada 1987 to 1989
Innovation, Commercialization and Patents
#62/308,054, Tc24-C4, A Chagas disease vaccine antigen with improved stability and decreased aggregationfiled March 14, 2017. Inventors E. O. Dumonteil, P. J. Hotez, O.A. Asojo, E. M. Hudspeth, J.Pollet, M.E. Bottazzi
#20130156777 GLIPR1 Inhibitors And Therapeutic Uses Thereof: Filed: Sept. 7, 2012. Issued: June 20 2013. Inventors R. A. Koski, N. Bonafe and O. A. Asojo
Professional Affiliations:
American Chemical Society
American Crystallography Association
Journal Editorial Boards:
Editorial Board Member Scientific Reports 2014 to present
Associate Editor BMC Structural Biology 2014 to present
Grantsmanship
U-RISE at Hampton University, National Institute of General Medical Sciences
1T34GM136489-01
20-APR-2020 – 31-MAR-2025
Role on Project PI on Multi PI grant PIs Ricks-Santi, Asojo, Penn-Marshall)
U-01 at Hampton University, HU-CHEM: Deploying evidence-based interventions in Chemistry at Hampton University to plug leaks in the biomedical training pipeline
1U01GM138433 4-Sept-2020 – 31-Aug 2023
Role on Project PI
Total costs associated with the project: $1,125,000.00
NSF-HRD Washington Baltimore Hampton Roads Alliance – Louise Stokes Alliance for Minority Participation (WHBR – LSAMP) 8/1/2018-7/31/2021
1809086 (Hicks, A James, Sub-award PI Haysbert) Haysbert, PhD (Sub-award-PI)
Role: Program Faculty
Total costs associated with the project: $183,277
Expired
Production of CAP proteins and their ligands for structure function studies
HBCU-UP ACE NanoHU Pilot funds
Role on Project: PI on subcontract
Dates of Funding: 10/1/2018 to 6/30/2019
Annual Direct costs associated with project: $5,000
Structural basis of CAP proteins as prostate cancer diagnostics and therapeutics
Hampton University MMHI Pilot Project Program 2018 NIH NIMH
Role on Project: PI on subcontract
Dates of Funding: 10/1/2018 to 6/30/2020
Annual Direct costs associated with project: $100,000
Collaborative Faculty Research Investment Program (CFRIP) Award
Asojo, Oluwatoyin (PI) 07/01/2017 – 06/30/2018
Hookworm Metabolome and Therapeutic Development
Project SEED Summer research for high school students
American Chemical Society
Role on Project: Coordinator and mentor
Dates of Funding (Tibotec): 2001
Dates of Funding (UNMC): 2008, 2009, 2010, 2011, 2012
Dates of Funding (BCM): 2013, 2014, 2015, 2016, 2017, 2018
5R01AI105431-03, NIH
Lustigman, Sara (PI) Hotez, PJ (PI) 01/15/13-12/31/17
Development of a Novel Adjuvant for Vaccine Sparing
Role: Collaborator and mentor of summer researchers on minority supplement.
2R44AR056908-02A1, NIH
Anthony, Karen (PI) 10/01/12-09/30/16
Therapeutic inhibition of MIF in Rheumatoid Arthritis
Role: PI on subcontract
1R43CA123991-01A2
PI Raymond Koski / N. Bonafe 2007 to 2011
Glioma Therapeutics Targeting Glioma Pathogenesis-related Protein
Role on Project: PI on subcontract
5U01AI082081-04, NIH/NIAID
Anthony, Karen (PI) 05/01/09-04/30/13
Broad-Spectrum Antimicrobials Targeting the D-Alanine Pathway
Role: PI on subcontract Structure based therapeutics discovery.
DOD Grant
Ken Bayles and Paul Fey (PI)
Dates of Funding: 2010 to 2012 (Participation ended upon leaving UNMC)
Fighting Drug Resistant Infections
Role on Project: investigator
K01 CA113486-05 National Cancer Institute (NCI)
ASOJO, OLUWATOYIN Ajibola (PI) 06/03/05-05/31/11
Structural Basis of Multidrug resistance in Cancer
Role: PI
R03 AI065990-01 National Institute of Allergy and Infectious Diseases
ASOJO, OLUWATOYIN Ajibola (PI) 07/01/05-06/30/07
Structural Basis of Novel Hookworm Vaccines
Role: PI