Department of Physical Therapy - OnTheMove@HUPT
The physical therapy department at Hampton University is "transforming society by empowering" our faculty, staff, and students. Through our activities, we are impacting the physical therapy profession, the HU community, and the Hampton Roads area through teaching, research, and service.
Class of 2017 studying in the Clinical Skills lab & First year DPT students learning crutch training.
For additional photos about life as a HU DPT students, visit our Instagram page @HUDPT.
---
Dr. Yolanda Rainey was accepted into the Virginia Geriatric Education Center Faculty Development Program in Interprofessional Education for academic year 2015-2016. The program is cosponsored by the Virginia Center on Aging and Virginia Commonwealth University.
---
Jordan Davis
Congratulations to Jordan Davis, the 2015 Dominion Physical Therapy Scholarship recipient. We are appreciative of Dominion Physical Therapy's commitment to the development of future physical therapists. Jordan Davis will graduate in May 2016.
---
HU Department of Physical Therapy Celebrates the White Coat and Pinning Ceremonies. More Information »
Research
Additional information about HU PT research »
Service
Stroke Awareness Day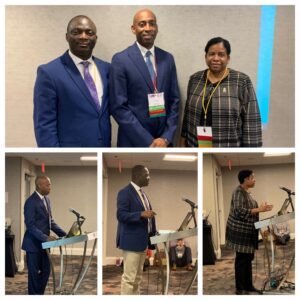 Doctors Tucker, Akinremi and Owens at 2021 speaking at the Educational Leadership Conference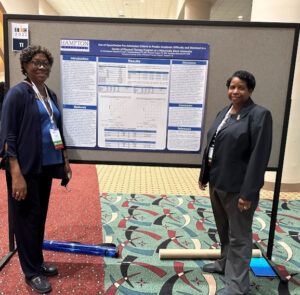 Dr. Tucker and Dr. Rainey giving a poster presentation at the 2022 Educational Leadership Conference 
In fall of 2022 our DPT students took the vitals of the runners participating in the 5k for Mental Health awareness 
Dr. Brian Edmunds has been elected to the Neurodevelopmental Treatment Association Board of Directors. He will serve a three year term ending in 2018.
The Hampton University PT Club and Hampton University annually hosts the Hampton 5K by the Bay. The students recently served as volunteers for the Bay Days 10K.
The DPT students along with the faculty participated in the Stroke Awareness Day held on campus.
The students and faculty are currently planning a falls prevention program to occur in October 2015. More details to come!