BS in Aviation Management - Airport Administration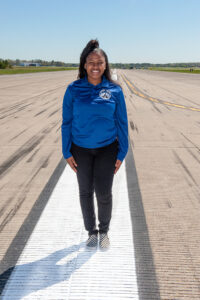 The Aviation Management: Airport Administration degree will prepare you for life as an aviation professional, such as an airport manager, government aviation liaison, or commercial carrier manager.The aviation industry includes governmental positions, national security operations, as well as small business owners and entrepreneurs. The major is designed to build upon technical training in aviation maintenance, flight, avionics technology, air traffic control, aircraft operations support or other aviation-related fields. Aviation management majors learn management principles that keep airports, as well as airlines, running safely and smoothly. They study everything from hiring employees to meeting government security regulations to making sure passenger luggage gets to the right place.
Airport Administration Program Objectives
The goal of the Bachelor of Science (B.S.) in Aviation Management, Airport Administration degree program is to equip students with a comprehensive understanding of airport management responsibilities and procedures. In addition, the program will stimulate program excellence and self-improvement, maintain uniform educational quality with industry standards, and increase the credibility, integrity, and acceptance of collegiate aviation programs among industry, government, and the public-at-large. Students will demonstrate leadership capabilities and high moral values. The Hampton University Aviation program is and will remain accredited by the Aviation Accreditation Board International (AABI).