Dean Dr. Joyce T. Shirazi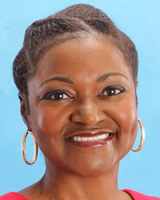 Message from the Dean

"As the new Dean of the School of Engineering and Technology at the prestigious Hampton University, I am excited to continue the successful matriculation of talented young men and women in the fields of Architecture, Aviation and Engineering.
While maintaining the rich traditions at Hampton University, I hope to ensure the future of the department by cultivating a community which prepares our students for the careers that drive our world today in engineering and technology; yet encourages innovation and creativity that will shape it tomorrow. All while supporting our faculty in performing cutting edge research."
– Dr. Joyce T. Shirazi
Dr. Joyce T. Shirazi, Dean of the School of Engineering, Architecture and Aviation at Hampton University, has a long and distinguished career in higher education and in industry. At Hampton University Dr. Shirazi leads a skilled team of faculty and staff in the Engineering, Architecture and Aviation departments, to ensure that Hampton University is a leader in STEM related fields.
Dr. Shirazi has previously served in both faculty and staff positions in the University System of Maryland (USM), including Senior Vice President and Chief of Staff in the Office of the President, Chair of the Information and Technology Systems Department, Program Director and Collegiate Professor for Engineering Management, MBA, Management of Information Systems, and Technology Management programs in the Graduate School at University of Maryland University College. She served as the Chair of the Council of University System Faculty for USM and as the chief liaison between the Chancellor, the Board of Regents and the Council. She advised the Chancellor, Presidents and Provosts on matters of system wide professional and educational concern to the faculty and matters to which faculty bring special expertise. In addition, she served on the Maryland Higher Education Commission Faculty Advisory Council.
Dr. Shirazi is a licensed, professional civil engineer and has academic credentials that include a Bachelor of Science in Civil Engineering from Howard University, Master of Science in Environmental Engineering from the University of Tennessee, Doctorate of Science in Environmental and Engineering Management from The George Washington University, and executive graduate leadership training from the Institute for Educational Management at Harvard University.
For a more detailed bio of Dr. Shirazi, please click here.